HubSpot is known as a remarkable sales and marketing software developed for firms that want to attract new customers. When it comes to inbound marketing, sales, customer, HubSpot stands tall. It is definitely the most popular marketing software on the market. However, this fame comes high prices. This makes HubSpot more expensive for smaller businesses and startups.
The market is filled with several alternatives to HubSpot. Knowing these alternatives will give businesses a chance to weigh their options before choosing a fitting software. Some of these alternatives include:
This CRM solution is an integrated marketing, support, and sales solution which is designed to help enterprises from small to midsized, acquire and convert visitors to their website into customers. this cloud-based platform allows businesses to use marketing tools in building relationships with clients and retain them for life.
Features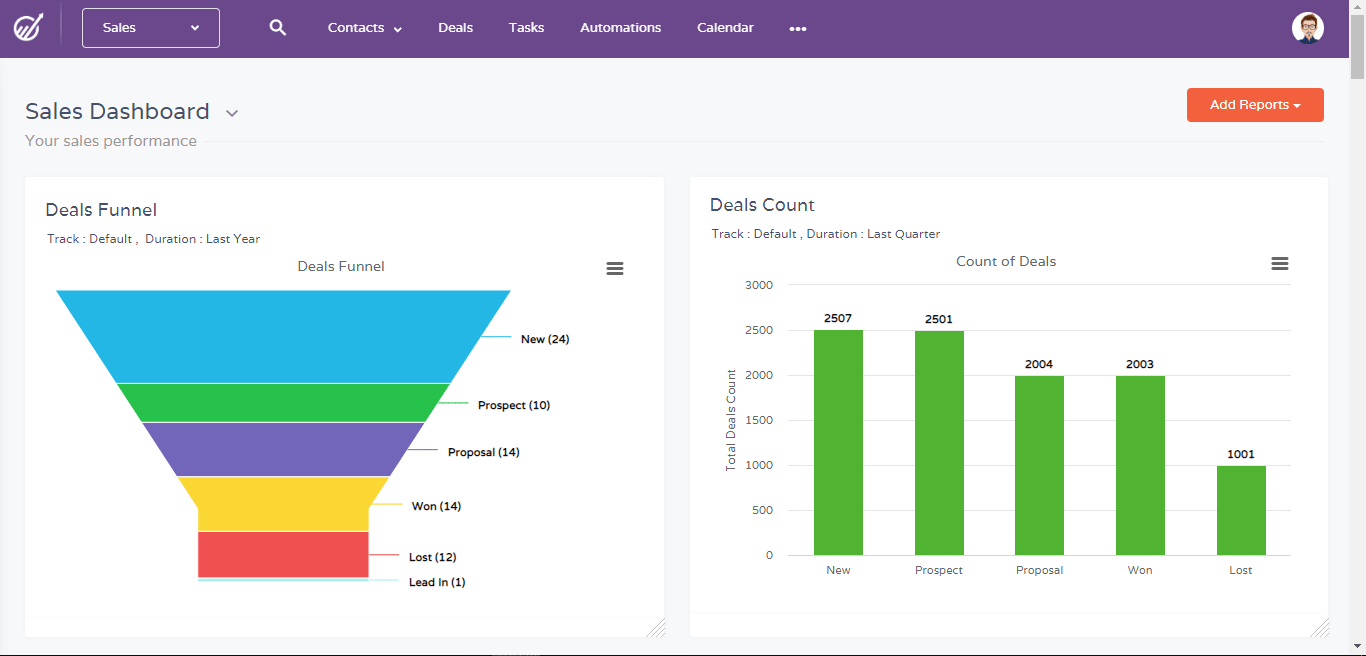 The main features of Engagebay include landing pages, email marketing, live chat/helpdesk, telephony, ticketing, appointment scheduling, as well as contact management among others. The software comes with CRM built in that allows companies to manage as well as track activities across clients, deals, and leads as they proceed with business. In addition, it offers users marketing capabilities to enable them to generate leads from automated email templates, social media engagement, and customizable forms and popups.
The software also allows businesses to integrate Xero, Zapier, and other third party apps like Intercom, Salesforce, Hubspot, and MailChimp. Some other features include:
Automation and Workflows: Engagebay has a market automation feature that allows small and medium sized businesses to send automated messages to customers and target leads across different platforms like email, SMS, web, and social channels. The method of sending messages depends solely on customer actions and behavior as well.
Email Marketing: The platform offers a broad range of email marketing templates. This enables businesses to pick the one that suits the needs of the business. The templates contain different types so it wouldn't matter if the customer is an educational consultant, fashion designer, or small business which deals mainly in customized products. They will surely look visually appealing to clients.
Landing Pages and Web Forms: this feature allows users to build responsive landing pages. There is a drag-and-drop designer to make this easier. Users can choose fonts, colors, and element styles that suit specific needs. The landing page is fully customizable and all elements can be changed and this makes it flexible. Drag and drop feature also comes in handy here when adding elements to a web form. The available elements are on the right side and they can be dragged to the left to simply add them to the web form.
Read more about Engagebay's features here.
Integration
This software works with third party apps with ease. Several third party apps can be integrated with this CRM software. They include:
WordPress
Shopify
Zapier
QuickBooks
G Suite
Office 365
Xero
Ring Central
Twilio
Plivo
Postmark
ConnectWise
Mailgun
Mandrill
Sendgrid
This integration makes it possible to handle all your work in one dashboard rather than shuttle a couple used for your business.
Engagebay Pricing
The pricing of Engagebay depends on the service you choose to use. There is an option to pay for the service with just Engagebay. For example, there are 4 plans for the All-in-one Suite plan. One is a free plan are the others range from $8.99 to $47.99 for the basic and professional plans respectively. You can pay annually or biennially.
This free plan includes helpdesk, live chat, landing pages, email broadcasts, CRM, autoresponders, as well as email marketing. It also allows you to send 1,000 emails per month to around 1,000 contacts.
Engagebay has a free sign-up option for small businesses for 15 users up to 1000 Contacts and 1000 Branded Emails. Check it out by clicking here.
Pros and Cons
Engagebay has a lot to offer when it comes to integrated sales and marketing. There are a lot of advantages and a few disadvantages to the software. They include:
Pros
Created mainly for startups and small businesses as a HubSpot alternative
There is a free plan for small businesses on a budget and the other plans are affordable as well
The CRM comes at no additional cost to existing subscribers to reduce the expenditure of the users
Engagebay offers a free migration service from existing platforms and free help desk and live chat support
Cons
Engagebay still has a long way to go when it comes to integration. More integrations are expected in the future.
Conclusion
Engagebay is one of our favorite CRM tools for small and medium businesses who want to start off with a CRM system to help grow their business. It is a simple and intuitive platform for first time users which makes adoption easier. Start with a free plan by clicking here.
This platform is for companies that want an all-in-one solution with a simple theme that other CRM software lack. Like Engagebay, Greenrope is also ideal for small and medium-sized businesses. It combines marketing automation, CRM, project management, and website content management. GreenRope offers a unified approach to business with a friendly interface.
Overview
GreenRope is a popular customer relationship management solution for small businesses in different industries. It is best suited to industries that want to consolidate their social media, email marketing, sales, project, and event marketing in a single platform.
The interface shows the available features from one screen. It has four main features: marketing, contact management, calendaring and project management. GreenRope also assigns tasks, store documents, and track projects.
Features
1. Dashboard & Expanded Dashboard
GreenRope's dashboard displays an overview of the stance of the business at the moment. it is divided into 2 different sections that allow users to find the information required in no time.
Users can customize the basic dashboard as it gives them a glimpse of the business growth rate, to-dos, and other stats. It is customizable as you can add, reorganize, or remove widgets to see what is more important to you. Also, the widgets are interactive. This means that you can click them to open a detailed pop-up.
2. Contacts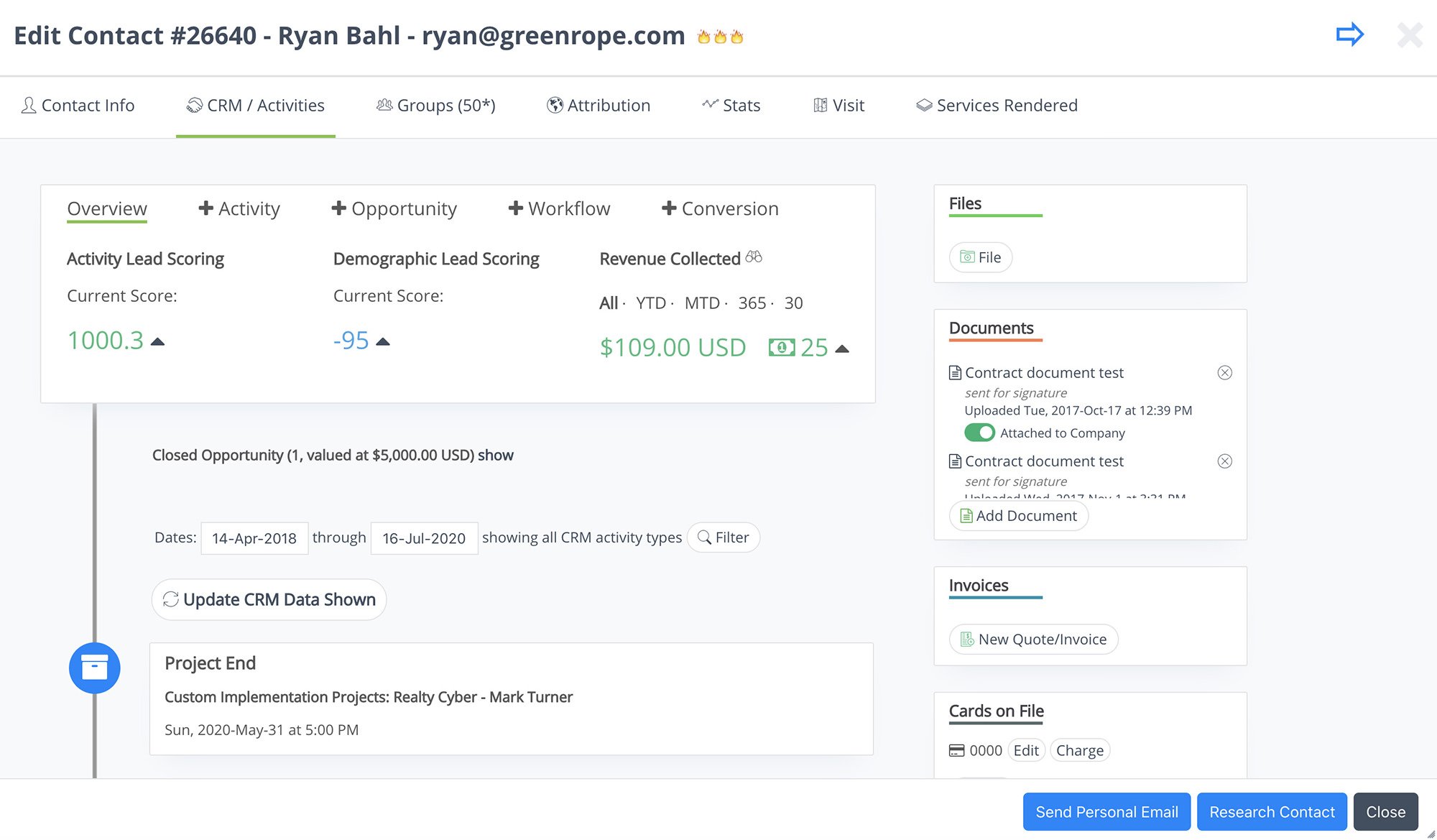 GreenRope has a contact management module that comes with a simple and yet impressive interface. It offers a holistic view of contacts that can be searched or filtered based on other criteria like pending to-do items, custom tags, opportunities, and others.
3. Communicate
This powerful module allows users to create and optimize various email campaigns and track them. In the same vein, it can be used to send MMS, SMS, as well as voice messages.
4. Automation
Marketing automation is one feature that stands out among the rest. The CRM is capable of lots of intelligent things without need human input. Lots of manual activities can be handled by it.
5. Calendar
GreenRope has an interactive calendar that is user friendly. It offers the users an overview of all activities and the upcoming task. it gives overviews of monthly, weekly, and even daily booking activities.
6. Website
It comes with a website builder but this module has a slight learning curve. Nonetheless, tracking, management, and analysis of the website are easy due to the single monitoring pane.
7. Apps
To get full control of the online marketing campaign, this platform provides businesses with several add-on apps. Some of them may not be useful for all businesses but it is still a good idea to have them in case the business expands.
8. Integration
Users can enjoy the integration of third-party apps such as Twilio, Authorize.Net, Olark, BlueSnap, Evernote, Panda Docs, and others. Also, users can integrate Zapier which allows them access to a long list of apps not provided for. Also, there is an API for some complex and more specific integration.
Get more details on Greenrope's features here.
Greenrope Pricing
GreenRope comes at an affordable price considering the impressive features it offers. It has a free trial period for users who want to test out some of its features to determine if it is a good fit. The standard account costs around $399 to set up and it comes with three hours of training, data analysis assistance, custom implementation guide, and access to all the impressive features.
The full list of prices:
Starter
$149 per month
Prime
$199 per month
Pro
$249 per month
Premium
$299 per month
Powerhouse
$349 per month
Supreme
$449 per month
Ultimate
$699 per month
You can start with Greenrope by clicking here.
Pros and Cons
Pros
Improves sales and revenue with organized CRM functionalities.
Build better relationships with customers and team members through collaboration and trust
Allows unlimited emails, users for all pricing plans
Powerful lead generation as well as nurturing tools to ensure that the team stays in track
Responsive and helpful customer care
No contracts since payments are per month so you can walk out whenever you want.
Cons
It can be quite expensive for freelancers and solopreneurs as well as smaller teams who may not need most of the features.
Unlike Engagebay, Greenrope does not offer a free option for new clients
Check out Greenrope's features by clicking here.
Aritic is a full stack automation software platform. It is mainly used by digital businesses. The platform works with communication automation, full-stack marketing automation, CRM application, business automation stack, and service desk application.
Overview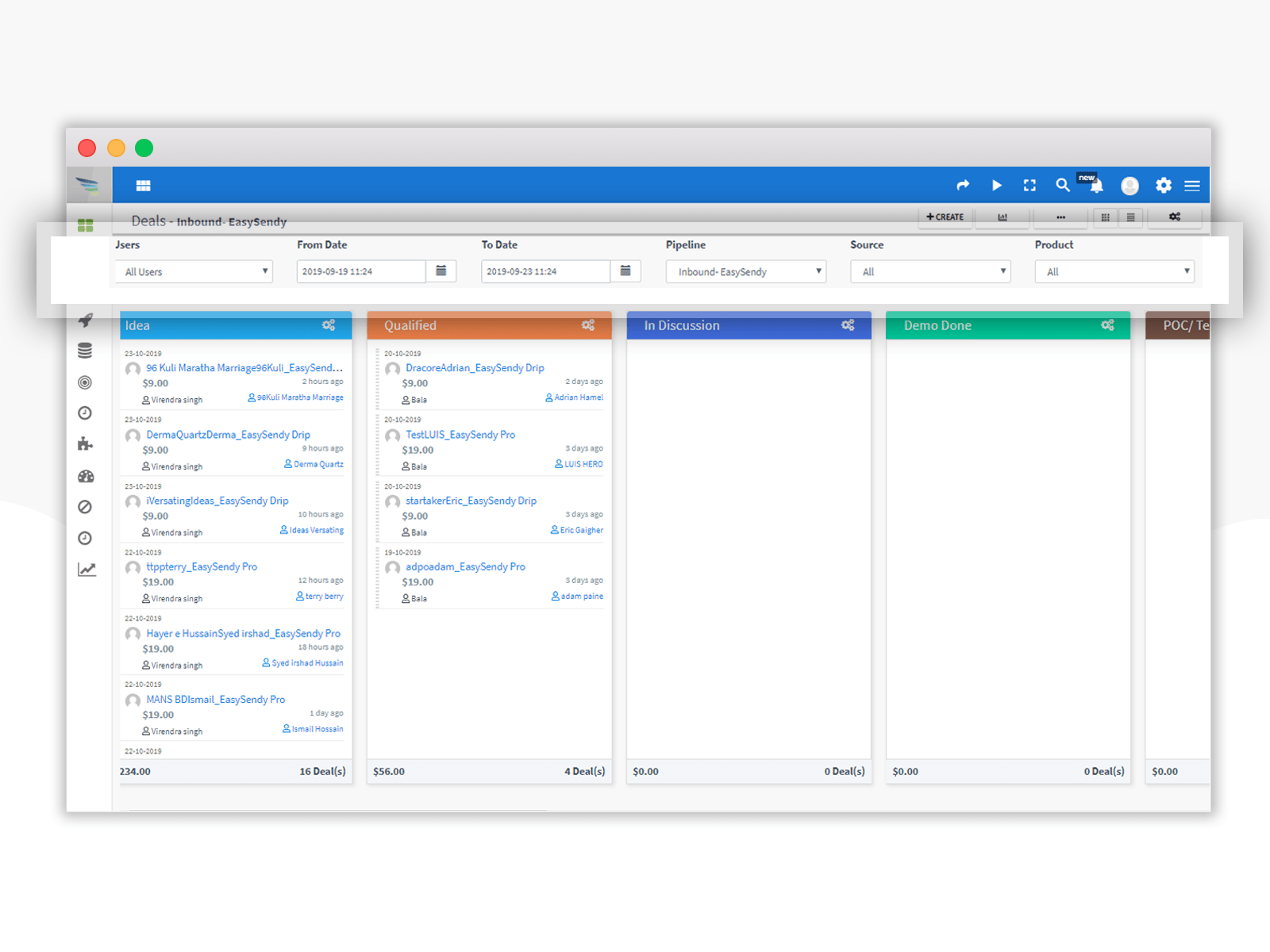 This full-stack marketing automation software helps to build relationships using leads, and marketing campaigns and converting the leads to paying clients. The main features include lead scoring, landing page builder, lead tracking, email marketing, lead nurturing, email marketing automation, a/b testing, marketing campaign builder and others to be discussed in the next subheading.
Features
Aritic Pinpoint has a lot of helpful features including:
Relationship Management: Aritic CRM allows you to link your client or prospect relationship with other contacts in the system even if they are from different companies. This feature helps you associate people who can help you close a lead.
CRM Workflow Automation: With automated workflows users can easily define triggers or conditions for events using a simple user interface
Complete Relationship Management: Aritic offers an overview of the complete interaction with clients including integrated social media, contact, relationships and personal information.
Email building and personalization – Users can create and design emails using an editor, personalize, and manage templates.
Outbound emails – Aritic has an outbound email sending feature that can be used to create schedules, targeted lists, and handle bulk email sending.
Managing email deliverability – This feature ensures that inboxes are delivered and includes bounce handling, opt-in-management, suppression lists, spam checking, email preview, delivery monitoring, and link validation.
Automated email responses – This feature allows users to set up online activities, nurture emails based on events, and lead scores.
Landing pages and forms – Users can build lead capture forms and customized landing pages for specific marketing campaigns. This could maximize conversion as well as capture the right information.
Dynamic content – Users can customize forms, emails, and landing pages for segments of prospects as well as customers.
A/B Testing – This feature allows you to test different versions of landing pages, emails, and forms. This will allow the business to learn what works better and maximize response rates to increase conversion.
Mobile optimized – The software supports mobile-optimized online forms, emails, and landing pages.
Search optimization and tracking – This feature allow the users to track the performance of links and keywords in top search engines. It also measures performance and rankings. It enhances page-level SEO with tools that can diagnose and improve page performance. It also integrates with Google AdWords.
File manager – With a web-based application, you can upload important information and data online. This implies that users can properly manage as well as share assets, images, and other files with team members. This reduces the risk of losing files.
Integrations – The system also has an integration feature to connect other applications to the software. Therefore, users can conduct email marketing campaigns with Gmail or even integrate with Salesforce CRM that keep sales and marketing activities in sync.
Anonymous nurturing – You can track the browser data while nurturing anonymous visitors. It allows the user to capture the attention of visitors by showing retargeted ads that suit their initial interest.
Integration
Aritic Pinpoint allows users to use third-party apps through integration. It makes it easier to access other crucial services without closing the software. Some of these apps include QuickBooks, PayPal, MailChimp, WordPress, SurveyMonkey, Google Analytics, Zoom, Salesforce Sales Cloud, Gmail, FreshBooks, Eventbrite, Zapier, Zoho CRM and Shopify among others.
Aritic Pinpoint Pricing
Aritic CRM has two simple plans. The free plan is available for 1 user and up to 200 contacts. Click here to sign up. The paid plan costs $29 per user per month for up to 20 users and 200 free contacts.
The pricing plans of Aritic Pinpoint vary according to the specific payment plan and number of contacts you opt to subscribe to. The payment plans range from month – yearly plans. Four pricing plans start from $19/month. These are Lite, Starter, Professional, and Enterprise plans. The Lite plan is $19to $189 per month while the Starter plan costs around $79 to $399. The professional plan is $99 to $449. These plans have different plans and functionalities so you may have to consider them before choosing a suitable one.
Pros and Cons
Aritic Pinpoint has some pros and cons and they are:
Pros
The software is an all-rounder tool that allows users to integrate third-party apps and run content marketing
Zero design sense and coding is an advantage as everything is ready to use.
It comes with SEO features that maximize organic search results while monitoring keywords.
Great landing page templates and dynamic content promotes targeted marketing.
Cons
A lot is going on with the Aritic products and it can be confusing sometimes.
Vendasta platform connects agencies as well as software vendors with businesses that require their services. The platform leverages big data, intent mining, automation, and rebrandable products to acquire, retain, and grow their customers. It turns sales teams to experts on digital marketing.
Overview
This local marketing service company is based in Canada. It provides small and medium-sized agencies with white-labeled marketing solutions. The services of Vendasta include marketing automation, customer relationship management, report generation, and sales pipeline management. In a nutshell, the platform offers agencies white label tools so they can in turn offer it to customers.
Check out Vendasta's features by clicking here.
Get started with Vendasta by signing up here.
Features
Vendasta has a lot of notable features and they include:
1. Snapshot and Email Marketing
The platform uses Snapshot to create reports based mainly on reviews, listing analysis, website performance, social performance, and online advertising. Using these comprehensive reports, the platform offers an email marketing strategy. There are ready-made email campaigns available to be customized with the existing templates. They also carry campaigns.
2. Listings Management
The marketing automation feature allows agencies to offer their customers online listing management. Users can create and update different business information on up to 35 listing sites. Also, such information can be fixed with data aggregators. The platform is suitable for different niche directories for SMBs like healthcare, real estate, legal, hospitality, restaurants, and automotive.
3. Product Catalog
The platform has a one-stop digital storefront for agencies to handle several vendors and clients from an integrated setup. The product catalog makes it possible for agencies to highlight products that they intend to show their customers. also, each client product can have additional promo pages that contain images, descriptions as well as contact information when added to the company product catalog.
4. Lead Generation and Sales Pipeline Management
Vendasta has clearly defined and rich profiles of customers for both digital and non-digital products. This feature provides easy access for referencing and from a single screen. This implies that adding social accounts, business information, client personas, and engagement to have streamlined processes of maintaining client data. The company's sales team can also prioritize leads when it comes to the engagement of prospects using Snapshot reports.
5. Reporting tools
Handling everyday operations can be stressful especially when it comes to analyzing the proof of performance of their reputation management. Vendasta offers email notification to solve this common problem. It brings new mentions, reviews, or listings to the user's attention as they come in.
6. Integration
Vendasta doesn't offer integration features directly to connect with third-party apps. However, the platform has a host of APIs that users can use to integrate different products within the client portals. Businesses that do not have their own product center can use the Vendasta business center instead. This would make it a lot easier to navigate.
Get started with Vendasta by signing up here.
Vendasta Pricing
When it comes to pricing, Vendasta offers monthly subscriptions. This package provides access to wholesale marketplaces and reputation management along with other white label tools and marketing automation platforms. The pricing starts at $50 per month. There is a free version that doesn't require any credit card and comes with the following features.
1 Local Business Online Toolkit
1 Snapshot Report / Month
50 Email Sends / Month
No credit card required
The free plan is an excellent way to find out if Vendasta meets your requirements. Sign up for the free plan here.
The other plans are starter, basic, pro, and enterprise and they cost $50, $250, $999 respectively. The enterprise plan is tailored to the needs of the business so there is no fixed price. Businesses need to contact the Vendasta customer care team to get a price for the service.
Pros
Wide variety of services. Vendasta has a lot of services that can be resold to customers.
Great online presence. The products offer the user's business a solid online presence.
Top-notch white label solutions. The platform is specific to offering a large range of white label solutions that can be re-marketed by agencies to their customers with personal branding.
Custom prices for larger enterprises
Cons
Vendasta API is priced. APIs are usually offered by companies as part of basic packages. On this platform, users are charged for the API use according to the selected pricing plan.
Get started with Vendasta by signing up here.
Ontraport may not sound familiar to most people but the firm has been around for more than a decade. It is an email marketing platform that offers extensive marketing automation as well as built in CRM to manage contacts.
Overview
Ontraport is a visual reporting and marketing automation platform. Its main component is email marketing and it has a full life cycle CRM system that works with visual campaign maps. These maps track all details of the company's interaction with customers.
The platform provides full functionality for landing pages, building signup forms, and multiple forms of communication such as SMS, email, and postcards.
Features
Ontraport boasts of several features that make it stand out in the marketing automation industry. Some of them include:
1. Flexible Block-Based Editor
The platform uses a block based editor in building landing pages, sign up forms, and emails. This means that when a user has learned it for a single purpose, then the person can use it for others. It is quite flexible and runs on web browsers. In each case, users have a long range of built in templates to work with. They can also choose to start from scratch and pick from a variety of blocks that they can use to design their own.
2. Versatile Campaign Builder
The platform also has a campaign builder. It is the core feature of the system and will be used more when the users have designed landing pages and forms. This feature is where all the magic happens. It is where users go to create funnels through which clients will flow. It usually starts with simple workflows. For instance, when a new subscriber is added to a list and sent a series of emails, or builds more complicated workflows, it affects the way subscribers interact with emails.
3. Powerful API
The platform allows users to integrate it with several third party apps like Facebook, WordPress, WISTIA, KAJABI, Twilio, EVERGREEN. Authorize.Net, GoToWebinar, Elavon. UltraCART, eWay, ClickBank, and 1ShoppingCart. In the same vein, it has an API that allows you to integrate the platform with any software.
4. Ontraport marketplace
This feature is a lot like the app store and allows users to share Ontramail, Ontrapages, and Ontraform templates with the community. The templates created by other users can be reused and you can share your template with others as well.
5. Contacts
This platform allows users to store important details about clients and prospects in a highly customizable screen. As you view, you can send emails or text messages, manage a credit card, log phone calls, and add tasks among others.
6. Integration
As stated earlier, Ontraport has several third party integrations. Many are marketing tools such as LeadPages, ClickFunnels, Thrive Leads among others. Also, it can integrate with different shopping carts like SamCart, PayLickStart, and Shopify. The API allows it to integrate with more tools to unify the business front.
Check out Ontraport's features here.
Ontraport Pricing
This platform has four different price plans which include basic, plus, pro, and enterprise.
The basic plan costs around $79 per month and covers 1,000 contacts, system users, and unlimited emails. It doesn't give access to some advanced features like acceptance of online payments, affiliate management, membership sites, and lead scoring.
An upgrade to the Plus plan costs $147 per month for around 2,500 contacts or Pro for $297 for 10,000 contacts.
Learn more about Ontraport pricing by clicking here.
Ontraport offers a free 14 day trial with no credit card required. The free trial is quite amazing and includes free Expert setup call & training and free templates for web pages, forms, emails and campaigns.
Click here to start with your free 14 day trial.
Ontraport Pros
Pre-made campaign templates that can be gotten from the community
Landing pages, campaigns, forms, and all are sharable with the community
Supports split testing for your campaigns
Contacts can be segmented easily with groups
Campaigns have multiple triggers
14-day free trial which doesn't require credit cards
Same editor for creating emails, landing pages, and forms
An active and helpful community that assists other users
2 free onboarding calls that help new users get started
Ontraport Cons
The basic plan does not exceed 1,000 subscribers. You may need to upgrade it to any of the Plus or Pro plans after reaching this limit.
Click here to start with your free 14 day Ontraport trial.
SharpSpring is still new in the marketing automation industry but has made a name for itself. The platform currently has a reputation for being affordable and fitted to different types and sizes of businesses.
Overview
SharpSpring is a full marketing automation platform that comes with robust features, great performance, and functionality. It is a flexible platform that offers powerful and behavior based email marketing, dynamic forms, native and third party CRM integration, blog builders, and landing page.
Also, SharpSpring offers several features for large sales and marketing teams.
Features
Some notable features include:
1. Marketing automation
SharpSpring offers a marketing automation platform with its visual workflow builder. This feature allows users to create custom automation. It also helps users to score new leads and assign workflows.
2. Behavioral email marketing automation
When it comes to automated marketing strategy, email is the main feature. This platform equips its users will all the essential tools to work with. It involves a library of email templates, content personalization for proper relevance of messages, as well as an email builder with drag-and-drop capabilities for making custom designs.
3. Customer relationship management (CRM)
The platform has a built in CRM that allows the user to manage contacts individually, automate workflows, and reach out with more personalized messages while tracking the progress of the sales cycle.
4. Analytics and reporting
This platform has a lot of reporting and analytics capabilities. Users get campaign tracking, email analytics, multiple device tracking, behavior tracking, custom reports, and ROI reports features among others.
5. Online Marketing
For online marketing, Sharpspring has features that help in building customized landing pages as well as lead capture forms. This will be helpful in specific marketing campaigns to capture the right information and maximize conversion.
6. A/B Testing
This feature allows users to test different email versions, forms, and landing pages. It will show the user what works and what doesn't. it also makes it easier to increase conversion and maximize response rates.
7. Search Tracking and Optimization
This feature allows users to track the performance of links and keywords in top search engines. The rankings and performance of each search can be measured. You can also improve the page level SEO using tools that diagnose and improve the performance of the page. it can also be integrated with Google AdWords.
Sharpspring has some amazing features. Get started on a sharpspring plan by clicking here.
Integration
Sharpspring integrates with e-commerce platforms via custom JavaScript. It is built on a platform-agnostic system meaning that you have the option of using your language of choice among Ruby, Java, Perl, Python, and PHP.
Users can integrate third party apps such as RaveTree, Bookmark, FullContact, Storychief, Zapier, Shopify, Writer Access, DataBox, Pipefy, and more. With Zapier, you can integrate a lot more apps than what is available.
Sharpspring Pricing
Sharpspring has different pricing plans according to the number of contacts. For instance, 1,500 contacts starts from $550 per month while 10,000 contacts starts from $850 per month. 20,000 contacts are more expensive and start from $1,250 per month. The price is also customizable for businesses that need more than this number of contacts.  All the plans cover:
– complete set of sales and marketing automation features
– unlimited users
– Unlimited, training and customer support by email and phone
– customer success manager
– in-app supports and more than 100 training videos.
Checkout Sharpspring features by clicking here.
Pros
Sharpspring also has some interesting advantages and they include:
Unlimited users on every plan
Solid automation and CRM features
Cost effective for larger businesses
Affordable compared to others with similar features line up. It is up to ten times less expensive than other tools
It has a month-to-month contract so you are not stuck with expensive transfer fees or long term contracts. To switch providers, you only need to give the platform 30-days notice.
Great for agencies as it is fully rebrandable and offers special user management and prices designed for agencies. The pricing isn't set in stone as it can be tweaked to fit the particular need.
Cons
Not intuitive for users that are non-marketers
Email builders and landing pages need improvement
Sendinblue has a comprehensive set of features including CRM, transactional emails, marketing automation, emails, landing pages, SMS, and Facebook ads. The competitive pricing also makes it stand out among others in the industry.
Overview
The platform has a full-featured plan that covers phone support for the first two months of use. It also covers marketing automation and up to 300 emails daily. Lead scoring and web tracking are parts of the advanced automation featured offered. Unlike many other providers, the charge is based on the emails sent instead of the available contacts.
Features
1. Marketing Automation for SMBs
SendinBlue has a marketing automation feature for businesses that want to build new workflows. This easy to use tool is also ideal for newbies who want to automate email sequences at the basic level. The tool has eight workflow templates that can easily be edited and reused for tasks. The accounts come with a Birthday message, welcome message, abandoned carts, website visit, page visit, activity based, and product purchase templates.
2. Email automation
This platform also has an email automation feature that can be really helpful since automation isn't a standard capacity offered by other tools. It allows the user to set specific email messages and triggers that are sent when the triggers go off.
3. Social media marketing
SendinBlue also offers social media marketing tools. It was recently added to the list of features and has an excellent module for building Facebook ads.
4. Email marketing campaigns and broadcasts
This platform also offers all you need to create an email blast to send to contacts on your list. The interface of the email builder is easy to use and it makes creating the messages more straightforward. It also works with a drag and drop feature and ready-made blocks for different types of content that are sent via mail. It is also mobile compatible.
To speed things up, SendinBlue also has a template library categorized into different groups. The emails look nice and can be customized further for use on other leads.
The other features include A/B Testing, Auto-Responders, Drip Campaigns,  Event Triggered Email, Dynamic Content, Image Library, Mailing List Management, Landing Pages/Web Forms and WYSIWYG Email Editor.
Integration
Users can connect SendinBlue to different e-commerce, analytics, and CRM tools. There are a lot of plugins that make this possible. The integrations include Google Analytics that can be used to monitor web traffic from email content. Zoho CRM is also a part of them as it can be used to add new contacts to SendinBlue's contact. Also, it has an open application interface that allows the user to build new integrations that suit the needs of the organization. As long as you have a competent developer with knowledge of PHP, Python, Node.js, Ruby, and C Sharp, you can integrate other apps. The platform has Facebook Ads capability so this would satisfy marketers who need the service.
It also integrates Magento to manage customer communications when sending SMS and email messages to contacts.
To get more information on Sendinblue's features click here.
Sendinblue Pricing
Sendinblue offers a variety of pricing plans. All the platform's plans include unlimited contacts using a tiered pricing. This depends mainly on the number of emails to be sent monthly. It has a free plan that includes unlimited contacts with 300 emails daily which is a good way to check out the features. The Lite plan costs $25 per month and covers 40,000 emails. The Essential plan goes for $39 and covers 60,000 emails. The Premium plan is more expensive at $66 for 120,000 emails. It also has an Enterprise plan but this package is custom-priced for businesses that may exceed 120,000 emails.
Sign up here for Sendinblue's plans.
Pros
Affordable plans. The platform offers one of the most affordable pricing packages in the industry
Solid email automation. This feature is quite advanced especially for the pricing
Smooth interface. The landing page editor has a modern template and smooth interface
Comes with SMS marketing tool which isn't common in many platforms
Cons
Limited integration options compared to others on the market.
LeadSquared is an all-inclusive customer acquisition solution. It aims at driving leads down the sales funnel faster. This platform is built majorly for small and medium sized businesses. It also quickens lead capturing using automation, and responsive landing pages as well as smooth lead capture from different sources.
Overview
This platform offers lots of features for sales automation and lead marketing. The system gathers great tools for lead capture like responsive landing pages and website widgets using existing traffic. With this seamless technology, LeadSquared allows users to capture leads that emanate from different sources.
Features
LeadSquared comes with a lot of useful features that include:
1.Sales automation
One crucial feature of this platform is sales automation. As a user, you can make rules for the assignment of leads to sales professionals. This automated process is based on product type and geography. The software can also be used to alert salespeople automatically while creating tasks according to priority levels. The feature also notifies the sales manager when positive sales interactions occur. It does the same when a sales-ready lead is successfully generated.
Users can also automate the sales reports weekly or daily as the case may be and have them delivered to the inbox. There is a provision to subscribe to reports on revenue targets, task completion, and sales notification.
2. Accelerated sales as well as API access
This platform has an accelerated sales feature that users can use to speed up the sales process. It does this by providing the ability to give sales-ready leads priority with lead engagement and lead quality scoring. The feature automates lead assignment by pre-defining distribution conditions and rules.
3. Marketing activity automation and lead capture
LeadSquared also allows the user to capture leads from different sources during the automated process. Some lead sources include blogs, online ads, emails, as well as lead generation websites. The process is completely automated and very efficient.
Also, the solution automates marketing activities. Using this feature, users can engage prospects using emails, SMS messages, campaigns, and drip marketing among others.
4. Drip marketing
Users can grab the attention of prospects to market products or services with drip marketing and trigger-based email.
5. Activity tracking
You can track prospective leads efficiently by monitoring the activity such as email opens, website visits, and clicks among others.
6. Segmentation
This feature allows users to segment or categorize your email contact list. It is done for lead nurturing derived from lead scores, behavior, geography, or other extra useful variables.
7. Messaging campaigns and personalized email
Users can engage customers as well as prospects by disseminating important and personalized content with SMS and Email messages.
Leadsquared has some amazing features for small businesses who want to start off with a cost effective and simple CRM.
Integration
LeadSquared allows users to integrate third-party apps to further unify the platform with all the user's needs in one place. Some of the apps include:
WordPress
Salesforce Sales Cloud
Google Analytics
Acuity Scheduling
Gmail
Shopify
Microsoft Dynamics CRM
Freshdesk
Zapier
Zendesk
LiveChat
GoToWebinar
Olark
RingCentral
PieSync
Microsoft Outlook
Instapage
Facebook
Unbounce
Livestorm
Twitter
CallRail
BigCommerce
NUACOM
With Zapier, it is possible to integrate more apps than available. So, users can choose the preferred apps to appear on the dashboard.
Leadsquared Pricing
LeadSquared has a free trial for users who do not want to make a commitment before trying the service. you do not need to input credit card details to benefit from this package. Asides the free trial, the platform also has three main pricing plans. They include:
Basic plan which costs around $400 per month for 10,000 contacts.
The standard plan is costlier around $1,200 per month and covers 50,000 contacts
The enterprise plan costs $2,500 per month and spans across 200,000 contacts with extra features that are not available in the previously mentioned plans.
There are custom plans for organizations that require customized pricing packages or features.
We would highly advise starting with Leadsquared free plan to get familiar with the software.
Pros
Simple and user-friendly interface
Excellent features with more being added constantly
Powerful and useful dashboards
Excellent uptime records
Responsive support team
Cons
LeadSquared is more expensive than many in the same industry with similar features.
Get started with Leadsquared by clicking here.
ActiveCampaign provides all you need in a newsletter marketing tool. In addition, its advanced automation stands out among others. It has several plans for businesses that need marketing automation.
Overview
This cloud software platform is ideal for small and mid-sized businesses. The company is based in Chicago and offers software that handles customer experience automation. this combines marketing automation, email marketing, CRM, and sales automation categories. Read on for more information about the features this platform has to offer.
Start with your ActiveCampaign plan by clicking here.
Features
1. List Management
One prominent feature is the list management tool. It plays the role of managing lists and contacts and it makes it seamless. What would have been done manually can now be automated and people can easily be organized into lists.
2. Email Automation
This marketing automation tool is one of the best newsletter tools in the industry. It is user-friendly and powerful. It allows the users to automate follow up campaigns and edit multiple conditions among other things. It is done through a flowchart style system that is easy to use. Also, it contains premade recipes that can be used to gather ideas. Users can also choose to start the automation process from scratch.
3. Newsletter Creation
There is an editor for newsletter creation which offers a lot of interesting features. One of them is the ability to reuse custom blocks users saved in the past. Also, other people can see changes the user has made just like Google Docs. However, finding the last action can be painstaking if you want to undo it since there can be several multiple autosaves each minute. Creating columns is also difficult and preview the newsletter is a hassle.
4. Reports and Analysis
This feature allows users to report on everything from click-maps, geo-tracking to page visits among others. Also, it provides a report on e-commerce on certain plans BigCommerce, Shopify as well as WooCommerce.
5. Spam and Design Testing
This feature allows users to test the newsletter before sending it to the recipients. It increases the chances of the email reaching the recipient's inbox. This testing is necessary since email HTML is far different from the regular HTML. However, both are available and spam testing covers checking the mail before sending it out during the campaign. It may be somewhat difficult to understand but it has an email client preview and this costs around $1.
6. Bounce Management
The bounce management feature has a hard and soft bounce. Soft bounces are usually counted as the former after about three times. This feature then sends it to the exclusion list.
7. Blacklist
Active Campaign also has a blacklist feature that allows users to import contacts and export too.
Get more information on ActiveCampaign's features.
Start with your ActiveCampaign plan by clicking here.
Integration
Active Campaign has lots of integration options like Shopify, PayPal, Google Analytics, WordPress, and Facebook. Users should not have issues finding apps they need. Some other apps you can integrate include CMS, Zapier, ClickFunnels, Unbounce, Pipedrive, WooCommerce, and others. Zapier makes it possible to integrate more apps than the platform provides. With this feature, the user can find more apps that aren't offered by Active Campaign and integrate them with the API.
ActiveCampaign Pricing
The pricing starts at $9 /month and is paid yearly. It offers the following:
Unlimited sending
Chat & Email Support
Email Marketing
Send Newsletters
Marketing Automation
Subscription Forms
Up to 3 Users
This is the best option for new users who want to check out ActiveCampaign.
ActiveCampaign offers a free 14 day trial plan with no credit card obligation. Check it out here.
The second package starts at $49 /month and offers the following:
Unlimited sending
Facebook Custom Audiences
Integrations
Lead & Contact Scoring
SMS Marketing
Dynamic Content
Up to 25 Users
Custom User Permissions
The third package costs $129 /month and the last one stars from $229 /month and both offer a lot more than the previous ones.
Start with your ActiveCampaign plan by clicking here.
Check out ActiveCampaign's free 14 day, no credit card trial by clicking here.
Pros
Extremely powerful automation. It is not just powerful, but also easy to use.
Great deliverability. It has proven to be useful when it comes to email deliverability.
Thorough reporting. The platform offers reporting on geo-tracking, page visits, and click-maps.
Free migration. Users of other automation platforms can easily migrate without any cost or hassle.
Cons
Overwhelming features may not be ideal for a business that needs a simple solution.