With more than 4 million active installs, Elementor is one of the most popular WordPress site creators on the market. This is not surprising since the free version and the pro version are user-friendly and very extensive. Read our detailed review to find out if it is worth your money.
What is Elementor?
Elementor is an open source page builder developed by a software company – Pojo Me Digital LTD – that offers plugin solutions and WordPress themes. The user-friendly plugin helps developers and designers to create WordPress websites and pages without coding. Elementor updates the standard WordPress editor so that users can create custom layouts for their home pages, home pages, products, portfolios, and posts. This WordPress page builder is equipped with powerful tools that help speed up workflows and help professionals and businesses increase conversions and sales.
Elementor also offers ready-to-use layout templates that can be shared and customized. It gives designers the ability to customize the design of their websites in several ways, including positioning content and resizing columns. Also, this Page Builder plugin has a number of configurable widgets that allow users to explore more design options. With Elementor, they can create responsive designs that are mobile friendly. Furthermore, developers can improve and develop the page creator, including the ability to add new plugins and widgets to the tool.
What are the Features of Elementor?
1. Customized Design
Because page builders don't require custom code, sometimes you have to sacrifice flexibility over where your elements are positioned to achieve simplicity. The best thing about Elementor, however, is that you get lots of intuitive controls to ensure you can place each column, section, and widget exactly where you want it. Thanks to its basic structure, Elementor gives web designers full control over the design of their WordPress pages and websites. The page creation plugin consists of page sections where users can design the content and layout of their websites with infinite possibilities. Each section of the page is divided into one or more columns.
2. Resize Page Columns and Sections
This tool allows users to change the height and width of each section of the page, as well as the columns of a section. By just dragging and grabbing one of the corners of a column, you can easily adjust the size of the column to your desired layout. You can also add additional columns to a section. In Elementor, the spaces between the columns can be adjusted at the same time. This feature is quite helpful to ensure that a page or website does not look cluttered, allowing the design to breathe.
3. Dynamic Scaling
Elementor also gives designers the ability to scale widgets, columns, and sections, columns using its margin and padding settings. Padding is the distance between the actual element and content and its border in web design. This feature allows designers to resize the elements and content on their website dynamically so that their mobile audience is comfortable viewing it.
4. Content and Column Positioning
In addition to resizing the width and length of content, columns, and sections, Elementor allows designers to define the position of columns in each section. For example, a column can be placed at the bottom or top of the section; or stretch over the entire section. The content of a column can also be placed in the same way.
5. Customize, Share, and Reuse Design Templates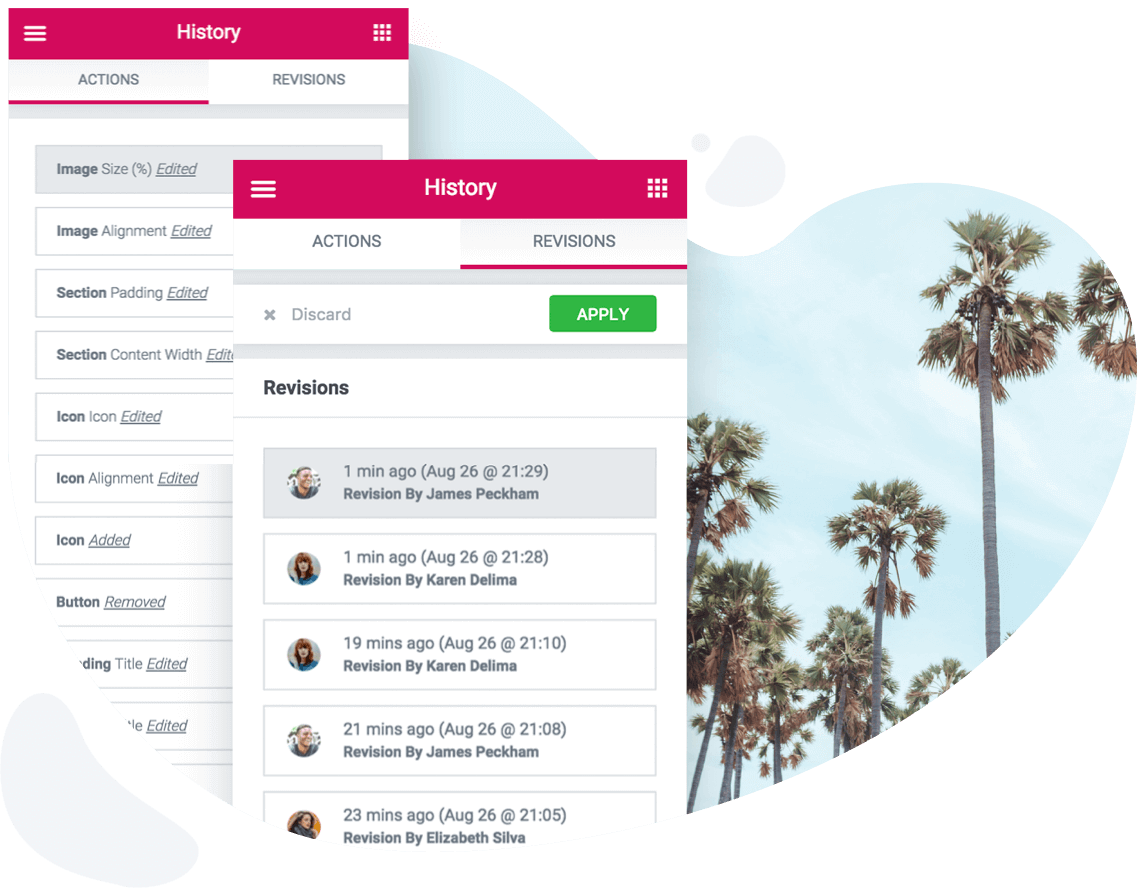 To optimize the creation and design of WordPress websites, Elementor is created with predefined templates. These templates can be customized and saved as distinct design templates. Using the import and export feature, page layouts can be shared with other designers and reused for other websites.
6. High-End Designs
Elementor allows users to go beyond simplified and generic page layouts. With the plugin, you can control pixels, select widgets, and symbols, experiment with fonts, adjust the background and border settings, and use color palettes to make your pages and website more visually appealing.
7. Inline Text Editing
Editing text inline is a convenient way to edit text on your page. Instead of using a popup like many page builders, with Elementor, you can simply click on your page and start typing:
8. Responsive Editing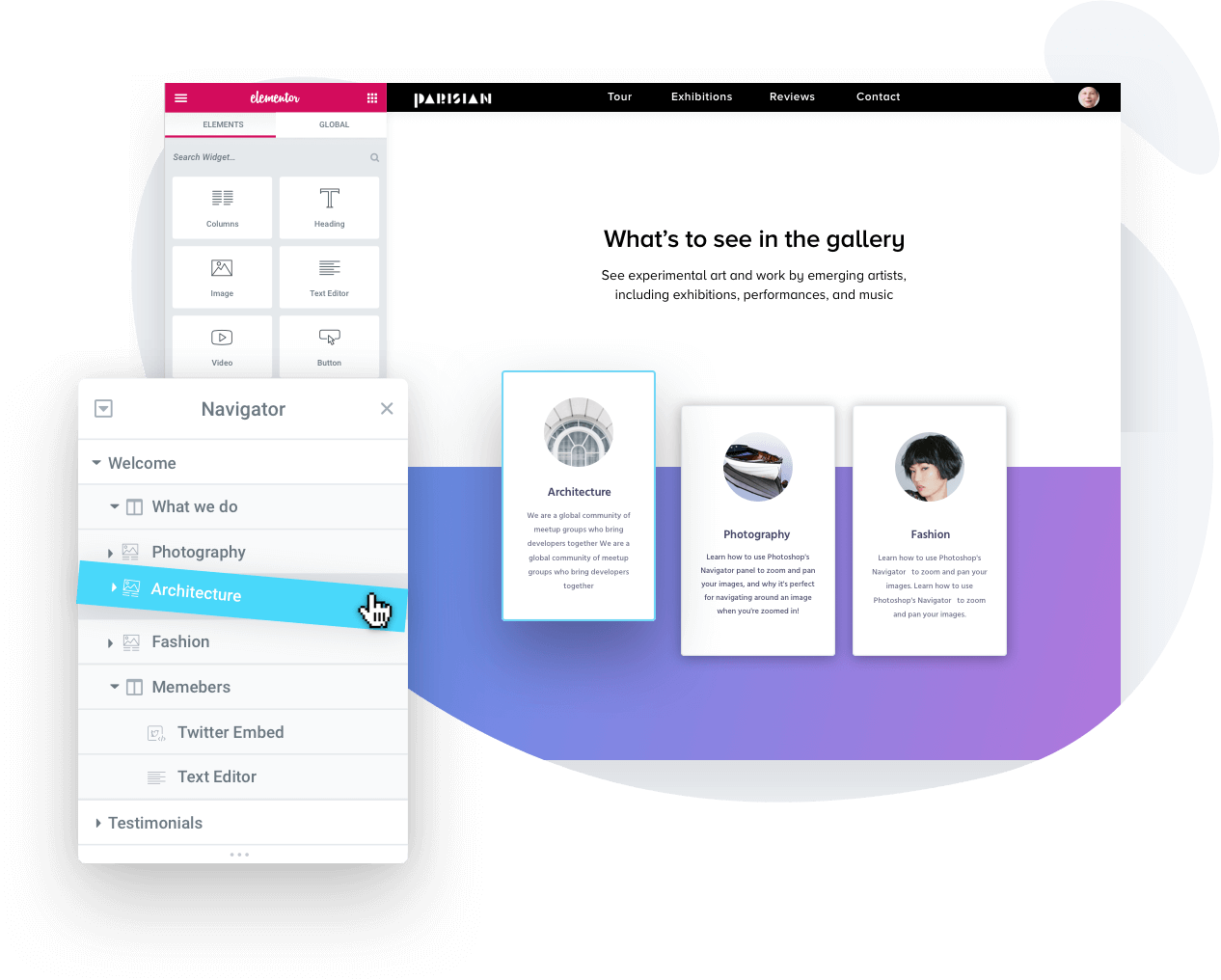 If you want to see what the designed page will look like on mobile devices or if you want to control exactly what it should look like on screens of different device sizes, no problem. With Elementor, you can also easily preview pages on mobile devices and tablet layout, in addition to the standard laptop layout. Not only can you preview pages as they appear on devices with different screen sizes, but you can also control the layout and elements exactly as you want them to appear on different screen sizes.
8. Integrations
Elementor offers integration with a number of tools including the leading CRM tools and Marketing tools such as Mailchimp, Drip, Aweber, Active Campaign, Zapier and Hubspot amongst others.
Overview of Elementor Templates
All of Elementor's design features are quite impressive, but if you don't have a design experience you can use one of the many ready-made templates from Elementor. And when we say "a lot", we mean really a lot. There are more than 150 models in the free version and more than 300 in the Pro version. If that is not enough, you will also receive Elementor kits – a collection of templates that follow similar design aesthetic and let you create a complete and consistent website.
The library of templates contains many types of common pages for various purposes. You will find a good selection of pages, landing pages (also for different niches such as a restaurant, hotel, etc.), homepages, and contact pages, team pages, portfolios, and much more. As well as importing templates on your page you can also modify them freely until you get the desired result. You can also save any of your pages as templates before reusing them on another page or sharing them publicly on the web.
Elementor Pricing
Elementor offers a free plan for WordPress. However, we recommend trying the Elementor Pro plugin. It is the paid upgrade to the free version of the Elementor plugin, but it offers you a lot of great customizations and features to take your web design to the next level. Elementor Pro currently offers three (3) subscription plans: Personal, Plus, and Expert.
Here's a breakdown of the plans, including features and pricing.
Personal Plan: If you are a beginner, the Personal Plan is perfect for you. It is also cheaper because it only costs $49 a year and it can be used on one website. The plan includes over 50 Pro widgets, over 300 Pro templates, Popup Builder, WooCommerce Builder, Theme Builder, 1 year of support, and 1 year of updates
Plus Plan: This plan is the right option for bloggers who manage multiple websites. The plan costs $99 a year and can be used on up to 3 websites. The plan includes over 50 Pro widgets, over 300 Pro templates, Theme Builder, Popup Builder, WooCommerce Builder, 1 year of support, and 1 year of updates
Expert Plan: If you want to create websites for clients, you should opt for Elementor's Expert Plan, which offers you the option of unlimited websites (since you can create up to 1000 websites). This plan costs $199 a year and can be used on up to 1,000 websites. With this expert plan, you get the following: more than 50 Pro widgets, more than 300 Pro models, Theme Builder, Popup Builder, WooCommerce Builder, 1 year of support, and 1 year of updates.
Elementor offers a 30-day money back guarantee. If you think Elementor Pro is not right for you, you can request a refund within 30 days of purchasing the license. Start your Elementor Pro plan by clicking here.
What is the difference between Elementor Free and Elementor Pro?
While Elementor Free comes with some useful features, you need to go with Elementor Pro to take full advantage of all features including the must have Theme Builder, third-party integrations and the Visual Form Builder.
Elementor Pro is one of the cheapest Landing page builder in the market. The Basic package starts at $49 for 1 website for 1 year. Check it out here.
How to Use Elementor
Let's move on to the more practical aspect of our review. Here is how to use Elementor. Elementor is a WordPress page builder – albeit a little more advanced one. To make it work, you must first install and activate it. All of this is standard, like any other WordPress plugin.
After that, there is a settings panel which you can visit if you wish, but that is not mandatory. You can directly head to your WordPress sites and create a new one. You'll immediately see the "Edit with Elementor" option. After clicking this main button, the Elementor user interface will be displayed. Here is what is what:
To create a basic page with Elementor, you must first understand the hierarchy of the page structure you are using:
A page can contain any number of sections.
Each section can have more than one column.
Each column can contain one or more content elements.
Finally, each piece of content can be designed individually.
So you have Page, Sections, Columns, Content, and Styling. To get started, you can insert an empty section or add a ready-made template.
In this new section, new columns can be added before filling those columns with content by just dragging and dropping certain blocks from the sidebar. Of course, you can also rearrange the sections by dragging and dropping.
Once you have set up a content block, you can simply click on it to optimize the details of the content and its presentation. Three main tabs are available for this – Content, Style, and Advanced. Only then can you work with individual content blocks one after the other until you have completed the entire page.
In general, Elementor is very easy to use and very intuitive. Once you understand the page or structure hierarchy and know all the content elements, working with your web pages becomes fun. This is especially true if you access some of the advanced features of the page builder.
Customer Reviews of Elementor
Elementor has been reviewed by web designers, business owners, and enthusiasts who need a web presence. In other words, this page builder has been used by people in almost all areas of life in which computers are involved. Not surprisingly, Elementor has received more or less enthusiastic reviews from almost everyone. Most of the negatives come from users who probably won't need such a complex or powerful WordPress page builder.
Some users said they liked the content of the tutorial Elementor offers new users. These guide newbies through the process of using the page builder. This can be useful if the regular documentation does not provide enough help. The ability to create a mobile site immediately after designing a desktop site also seemed popular. Some reviewers noted that they had a desktop site already, but thought they lacked mobile traffic. Elementor took the existing content and resized it to the size of the device it is displayed on.
Also, Elementor offers a large collection of free and premium templates that you can use to create a unique look for your website. In other words, Elementor customers claim that the web pages they create may be completely different from the websites published by other page builders.
Several reviewers were pleased that Elementor's templates were responsive. This means your website adapts to the screen size used by the visitor automatically and ensures that it is displayed correctly on desktop and mobile devices. There is even a preview feature in Elementor that lets you see exactly what your website will look like on different devices like tablets and smartphones. Responsive design is particularly helpful for businesses, as it is no longer necessary to maintain a separate mobile and desktop version of your website.
In general, most reviewers agree that Elementor is an excellent WordPress page builder. This makes creating a website very easy and the cost of the entire service is very affordable, which is a huge advantage for individual users and small businesses.
Conclusion
Pros of Elementor
1. Customization options
One of the main factors that have contributed to the incredible success of Elementor is the number of customization options. Each widget has a large number of style options, and the sections and columns can also be customized. Plus, there are plenty of attractive pages and blocks just a click away. Of course, these features are customizable to reflect your brand perfectly.
2. Visual editor
Many beginners love this feature because it allows them to see how each setting affects the website in real-time. There is wasted time or back and forth work, not to mention user satisfaction.
3. Easy-to-Use Control Panel
In addition to offering a variety of options, Elementor is also easy to use. Watching the 7-minute introductory video is enough for users to understand how to use Elementor. You don't need to know CSS and HTML to create a functional and attractive website. This is the primary goal of a page builder, and Elementor has accomplished it in style.
4. No Price Tag
Elementor is free, even if its features are of the highest quality. The code behind the page builder is open source, so there are plenty of third-party premium plugins. A premium plugin called Elementor Pro released by the Elementor team really enhances the plugin. You have to pay for it, but it is certainly a good deal compared to what you get.
5. Clean Code after Deactivation
You have no problem with the code if you deactivate Elementor. The Elementor created styling disappears, but the code left behind is still functional. Many page builders leave messy code after they are deactivated. Deactivating a page creator should be as easy as activating it. This is another great advantage of using Elementor.
6. Developer Friendly
In summary, Elementor is an easy-to-use tool for developers. WordPress developers can use open source architecture to improve, customize, and extend its functionality. You can create your own CSS for widgets, columns, and sections; and quickly add them to your website. Plus, you can integrate your own WordPress widgets and plugins into the page builder without the need for code.
Cons of Elementor
Although we recommend Elementor, there is still room for improvement. Here are some of them.
Nothing artificial is perfect and Elementor is not an exception. You need not use it for several hours to discover that Elementor is slowly loading over time. But a refresh solves all the problems. However, this problem might only bother the most demanding users.
Additionally, adding custom styling to your links does not go as planned always. You can be stuck with the default color and typography settings of Elementor, which may be undesirable.
Get started with Elementor by clicking here.
Elementor Login: Click here
Elementor Knowledge Base: Click here
Elementor Support Contact: Click here