Most people think Paymo is focused on payments because of the name. it is not remotely close to payment services. It is a simple software for project management. It is packed with features like time tracking task management, invoicing. Paymo mainly ensures that you spend less time in administrative works while focusing more on operations.
Paymo is a project management and cloud-based solution for both small and medium businesses. The solution supports team collaboration as well as remote work, resource scheduling, time tracking with project accounting in a single suite.
Paymo also offers mobile and desktop apps, a built-in timer, and accurate timesheets. They act as a window into your business's productivity. The data can be exported as time reports are given to the clients. This gives the transaction an additional level of transparency.
It has accounting functionality used to track expenses, transform proposals to projects, create automated client invoices. It helps ensure that you keep your finances close while making sure to receive your payment on time. It has two paid plans along with a free plan for freelancers and individuals.
What are the features of Paymo?
Paymo has some notable features that make it stand out. It allows the users to see an overview of the duration, start date, as well as dependencies. It has several other features which include:
1. Smart Invoicing
Paymo allows business owners to create an invoice for projects in their portfolio. For internal projects, you can pick the "non-billable" option. As a project management software, Paymo lets users create invoices of accurate estimate that is suited on your tasks. You can also create invoices for hourly or flat rates that you intend to share with clients.
2. Flexible Billing Rates
Many clients may opt for an hourly payment plan while others prefer a fixed price monthly. Paymo solves this problem by allowing you to create different rate scales. These scales work for different products according to what you need. Business owners have the option of creating default hourly rates for new projects or choose whether it is a task, employee, or client's project.
3. Timesheet Reports
Setting time, tracking time, calculating time, and more comes down to reporting. This is one of the offerings of Paymo. It offers a robust timesheet reporting function. It allows you to create customized timesheets in a timely and easy manner. You can create different live reports that show the real time timesheet data. It also allows users to create a static timesheet that shows a report of a project at a given time. Most of this information can be easily customized.
It has advanced settings to help you decide what information to showcase in the report such as tasks, projects, entry notes, and display costs.
The feature allows the users to track your work according to your requirements, whether daily, weekly, or monthly. You can always add a new entry for time as well as task.  From minutes to hours, you can set everything up so the timesheet will create an overview. The overview shows how long you have worked on a particular project. This type of precision will speed things up and make it easier for the user to meet deadlines.
4. Team Collaboration
No matter how large or small your team size is, you can easily communicate with team members to get better results. Paymo makes it easier to share, discuss, and achieve maximum productivity within your team.
You can use the 'detailed task view' to see what everyone is doing on your team. The project details, billing amount, and more can be viewed. Business owners can decide who will be notified when a comment is published.
5. Files and Discussions
This feature offers an overview of the files that have been attached for the user or team members as they work on a project. Also, the discussion tab shows the list of all discussion threads if you need to find some more information.
6. Activity Feed
This feature allows the user to gather the details about which team member created which task or who did what. The project template feature also comes in handy for all project management needs. If a business owner runs most projects in a similar manner, then this feature helps save a lot of time. New projects can be saved as a template and re-used later.
It allows you to create a workflow while also determining the steps and sequences to be followed. It is quite transparent and everyone can see it as the project goes on. The boards are also easily customized to suit the specific needs of the project. If you don't like a complicated dashboard style, then you can change it to the classic mode.
Most times, you may be confused about which project is completed and other pending. Paymo allows you to enjoy a bird's eye view of the projects on your hands. It gives you a clear view of the projects that have been billed as well as others that haven't been billed. The timing is also included and can be found at the project status.
It makes the entire process of project management rather seamless. The project data feature allows the user to take a snapshot of the details of all projects on the ground.
7. Tasks
The task feature offers a checkbox that can be checked off when the task is done. Mainly, the tasks are arranged according to their dates. This can be altered by simply dragging and placing in a different position.
8. Milestones
The milestone feature allows users to know their progress on all pending projects. For instance, you can know which project is delayed from the dashboard and it will be marked as complete when it is done. So you can create important milestones and list them in this place.
9. Add-Ons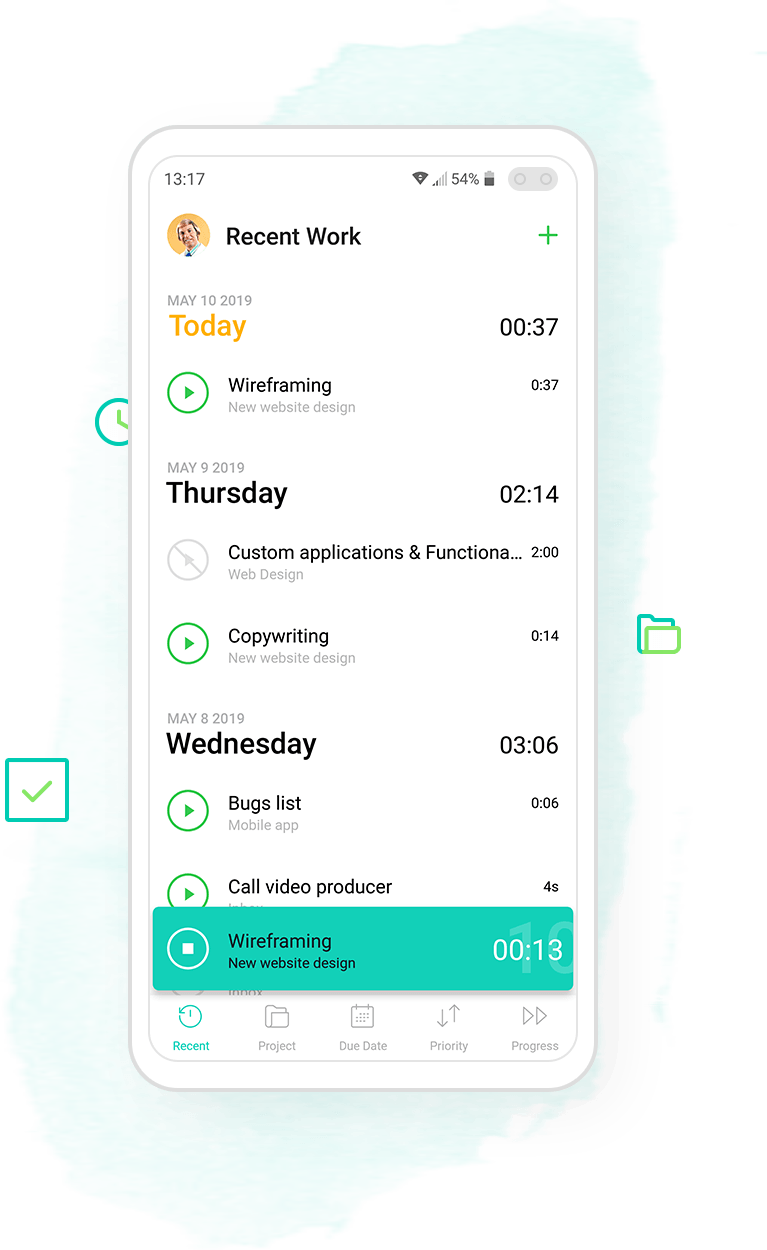 Paymo has a dedicated app for mobile and desktop. This app helps you stay ahead of your tasks. It makes it easier to finish your tasks on time, before the deadline from your smartphone or desktop. You can download the app on both Android and iOS platforms.
It also has a widget that can be installed on Windows or Mac. This makes using the time tracking and saving features such as time sheet editing, stopwatch, and idle detection seamless.
You can also use the Paymo Plus app if you plan to work on several projects at a stretch. Simply start the app and allow it to run in the background. You can continue working on your tasks. This app is available on Mac and Windows desktop. When you are done, simply match the windows tiles or application to the correct task/project.
Paymo also allows you to integrate third party applications to make the work seamless. Some of the applications include Hubstaff and Zapier.
For more details on Paymo's features click here.
Pricing of Paymo
Paymo has a free version which offers most of the features. It has a simple and straightforward plan. The free version lasts for 15 days and is an unlimited trial. Click here to start your free trial with Paymo.
For the paid plans, each user is charged from $4.95 per month.
For non-profits, the Paymo project management software offers to support individuals and non-profit organizations who are involved in charity work. The non-profit individual or organizations can get a 50% discount when they want to use the service. this discount can increase to 80% if the organization can mention the company's name as a supporter on their website.
This discount is strictly for people or organizations that are involved in social work so the discount is not available for the general public.
Also, Paymo offers its users a lifetime free subscription. This is done to reward the users for their trust and loyalty. You can benefit from this package by reviewing Paymo in some selected platforms and mentioning how the service has helped ease your work. This helps you save $60 which is credited to your account on the platform. You will be required to write this review on G2 Crows, Capterra, Alternativeto, or Chrome Web Store. The requirements may differ for each platform.
Also, there is an affiliate program that offers users 10% of the recurring commission where over 15 users purchase a subscription from the user's site. this means that a user could get $13.4 per month for a duration of 28-36 months.
Customer reviews of Paymo
Many customers loved the features as they allow them to automate most of their processes while keeping their project management in one place. They say it boosted the efficiency of the entire team. One user used to have separate processes as well as locations before using Paymo. Therefore, lots of activities were done manually including invoice creation, project management, and estimate creation among other things. The user reports that Paymo helped cut down the time used in doing those manual processes. This allowed the company to streamline the project management to suit the needs of the clients and the company.
Another user said Paymo is a lot easier to use and they used it to keep a record of tasks and time to execute projects. They also used it to invoice clients while some were set to be recurring to prevent starting the process all over again each time. This user found the Paymo API useful in importing current projects and clients.
One user loved the value Paymo offered value as it was a great solution to their remote work. The company used it for tracking clients as well as sending time reports for billing. The user commended the features such as the time tracker and the time reports. The seamless navigation was also applauded along with the editing and exporting reports.
Pros and Cons of Paymo
1. Seamless integration
One advantage of Paymo is seamless integration. The service includes desktop and web timer that offers flexibility and allows you to choose whether you want remote work or work from the office. It also offers time-tracking features, collaboration, invoicing, and task management in a single app with seamless integration. This means you will have a faster workflow and avoid data migration errors.
2. Handles multiple projects
The apps auto monitor the time spent on documents, social media, emails, and other specific emails. The timer doesn't need to be controlled manually. It starts immediately you begin to work on your desktop and vice versa.
3. Offers quick view option
This app has a main dashboard that gives the user quick views of important data. Such data can include the number of clients, existing projects, as well as the calendar of the members and owner's daily time. It also offers insights such as the top projects in the month as well as a comparison of the total monthly hours of different months.
4. Performance overview
Paymo gives you an overview of your team member's performance for the month. It balances the schedule of staff and checks who is falling behind schedule.
5. It can be confusing
When you are working on several projects at once, it can be slightly confusing. The interface is a lot smaller for less than ten projects. If it surpasses this number, it could become more difficult to understand.
Conclusion
Paymo is great for small and medium sized enterprises. However, it is believed to be more impactful in smaller businesses. Consultants and freelancers may also benefit more from using Paymo to streamline multiple tasks from collection to managing projects. Paymo tracks expenses and helps its users to remain on a budget and keeps them organized as well. Also, Paymo allows users to see the big picture and determine how much time is expended on a particular project.
It is an excellent solution to the project management needs of users. It basically automates so many tasks that would normally take a longer time to do manually. It saves time, organizes the project, monitors the time, and team members among other things.
Paymo login: Click here
Paymo support contact details: Click here
Paymo Knowledge Base: Click here